Just how different could WWE?s history have been?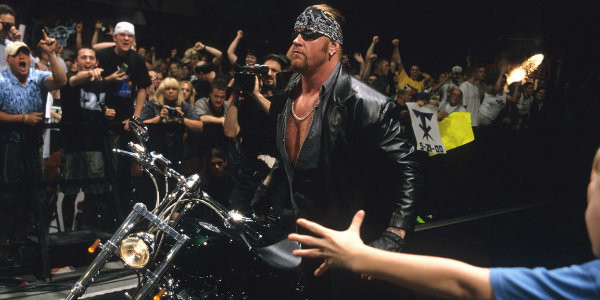 WWE.com
The Undertaker is the longest-running character in wrestling today, and one of World Wrestling Entertainment?s crown jewels. Definitely one of the most-beloved names in the entire industry, ?Taker has forged a legacy for himself which will never be replicated.
Shockingly, not many in the then-WWF felt the gimmick had much longevity when the zombie-like Undertaker first started showing up on television in 1990. It all seemed a little hokey, maybe even a little contrived, but Mark Calaway, the man behind the persona, has managed to keep the character relevant over the years.
One of the way Calaway has been able to do this is by switching things up a little. Following a spell on the sidelines through injury, The Undertaker returned with a bang at Judgment Day 2000, riding a motorcycle to the ring and morphing suddenly into the ?biker? version of the character.
According to Kevin Nash, there were serious talks about bringing ?The Deadman? over to World Championship Wrestling, something that?s unthinkable nowadays. Even so, Nash said it to be true during a recent interview, claiming that Calaway nearly made the jump in the late-90?s.
Needless to say, this would have changed the wrestling landscape hugely, and this article looks at 10 big knock-on effects that would have happened had ?Taker wound up in WCW.