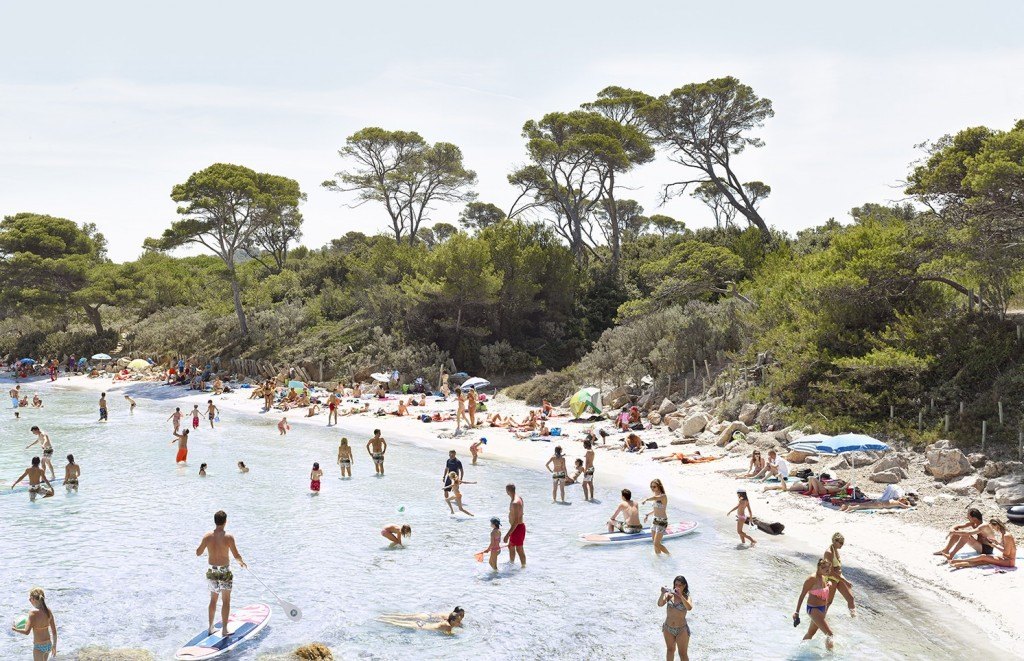 The collaboration between Massimo Vitali and Vilebrequin was inevitable : Vitali has been passionately photographing beaches all over the world for the past 20 years, and Vilebrequin has been dressing the chicest of chic bathers since 1971. Together, they conceived an exceptional capsule collection where image, subject, and object come together thanks to a unique process of image manipulation.
The two parties came together to express their mutual support of contemporary art and the preservation of coastlines. Vilebrequin, who are known for their impeccable high-end swimsuits, invited Massimo Vitali, equally known as the master of contemporary photography, to transform the beach into an open-air gallery. Just like Vilebrequin, Vitali invented a unique style, he?s been called ?the oldest photographer of the young generation?, because he only started his career as a photographic artist at the tender age of 50. From the Venice Biennial to Art Basel Miami, his large-format, inescapable works transport you to beaches filled with beauiful holidaymakers, where the water is crystalline and the horizon stretches as far as the eye can see, I hope I?ve transported you to the scene, at least in mind if not in body. Vitali?s style is often imitated but never equaled. Very few have ever captured with such brilliance the beauty of a coastline and its ephemeral inhabitants.
The collaboration needed to happen in a way that made sense to Vitali. ?This project was interesting because it went further than the images I usually make,? he explains. If we look closely at Vitali?s Vilebrequin photograph, we can see that the image itself appears on the bathing suits of several of the bathers, creating an endless sense of illusion. The technique is resolutely contemporary, but the atmosphere it creates is timeless. ?We were looking for emblematic locales in the French Riviera that evoked the joy of the holidays in the 1970s,? He continues. He chose the island of Porquerolles,  one of the few well-preserved vacation spots left on the Mediterranean that maintain a sense of authenticity. Vitali?s image appears in a capsule collection consisting of a Moorea Swimshorts, see below, the house?s iconic model, and a tote bag. The elements in the landscape are transformed in layers of color that go from azure blue to verdant green and sandy beige.