Once upon a time in the Great British Countryside a man had a dream. The time was the late 1980?s, the man, is, Tom Joule and his dream was to establish a brand renowned for selling well made, colourful, country inspired, aspirational clothing for all the family.
Tom learnt his trade quickly, selling branded country life apparel at shows and events around Britain, his stall fast became the go-to destination for the discerning customers. In 1999, seeing a gap in the market for a design lead,  country inspired, quality clothing brand, he began selling only Joules branded products.
Fast forward, the dream has become very much a reality with 97 Joules stores, with an established wholesale business (including partnerships with John Lewis, Selfridges and Next) a successful e-commerce site and a growing International following, Joules continues to be a firm favourite for families up and down the country and the company can still be found at Britain?s leading country shows and events.
Outside of work, Tom lives a somewhat envious life in the English countryside with his family. He has a small holding with chickens, sheep, horses, rabbits, cats and a vegetable garden. In his spare time, he likes to escape to the British coastline and can regularly be found with his family on the Norfolk coast or visiting local antiques and collectables yards. Joule is an avid rugby fan, having played until the age of 40 and is a keen golfer, not a bad life then, hey ?
If you had one day to live what would be your biggest regret?
Not spending every waking hour with my children.
What would be the one piece of clothing you would rescue from your home in the event of a fire?
An original Naval Peacoat.
What inspires you?
The coast, the countryside, New York and my Mum.
If you could only wear one brand for the rest of your life who would it be? 
If cost was no object, Brunello Cucinelli ? always classically up to date, wonderful fabrics, amazing cut and accessories to die for.
Who is your style icon?
Edward VIII. He was the epitome of style, wore great clothes, had individual flair and put a unique twist on classic pieces.
What piece of clothing should everyman have in his wardrobe?
The new Joules Rainier Waterproof Mac, a must-have for every man!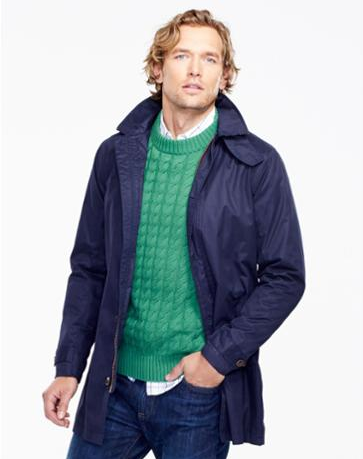 What piece of clothing would you relegate to Room 101?
Crocs.
What do you have to do after this conversation?
Review our Spring Summer 16 collection ? there?s lots to look forward to!
What would you like to be doing after this conversation?
Flying to the West Coast of the USA to play Pebble Beach Golf Course.
Who would be your ideal diner guests?
The late Richard Attenborough; a humble man with an extraordinary life. Reginald D Hunter; for his incredible wit, so dry. Anne Hathaway; need I explain!?
If you could give your teenage-self advice, what would it be?
Don?t be frightened to ask.
Favourite hotel in the world?
Hullet House, Kowloon, Hong Kong (see below)
 If you could collaborate with one brand who would it be ?
Triumph Motorcycles. Joules take tradition and bring a modern twist using the latest fabrics and detail to work with customers? needs. I?d love to take a brief from the likes of Triumph and put my twist on a great jacket.
clear information on News in Focus