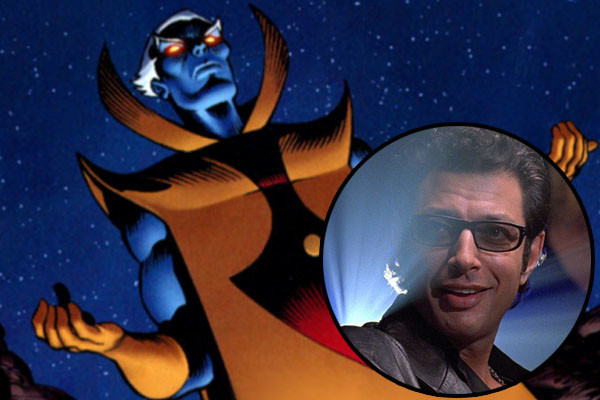 Marvel
It had to happen. The coolest geek in Hollywood had to join the MCU at some point, and finally it's all coming together perfectly.
According to THR, Jeff Goldblum is joining Thor: Ragnarok as the Grandmaster, a magical cosmic being who typically pits teams against each other in high stakes strategy games. Interestingly, he also once possessed the Mind Stone, before losing it to Thanos: let's hope a similar story will emerge here.
It would be great to see the Grandmaster pitting Thor and Hulk as a team against someone else in a fight (Loki and his "loyal forces"?), because not only does that give us the rather beautiful image of Goldblum pulling the strings like Q in Star Trek, it also scratches another big itch. It could help adapt some of Planet Hulk (the gladiatorial element) without having to do the whole thing.
Goldblum will also be joined by Karl Urban, who is set to play Asgardian warrior Skurge, otherwise known as The Executioner. For anyone not familiar with the comics, Skurge is a villain, aligned with the Enchantress (so she's probably coming too as suspected) and Loki.
Ultimately, he died after changing sides in a mission to Hel (again, rumour has it that's where Thor: Ragnarok is headed too). So I may have just spoiled what happens to him.
There was also confirmation that Creed star Tessa Thompson will be playing Valkyrie, which will no doubt lead to some ridiculous complaining online, since she has typically been blonde and white in the comics. Good on you, Marvel. As expected, Cate Blanchett is playing Hela, the villain of the piece.
This is all good news. Adding actors of this calibre in supporting roles shows the brand power of Marvel, and it's got to be a good thing for the fans. The very idea of Goldblum in a comic book movie is just the best.
---