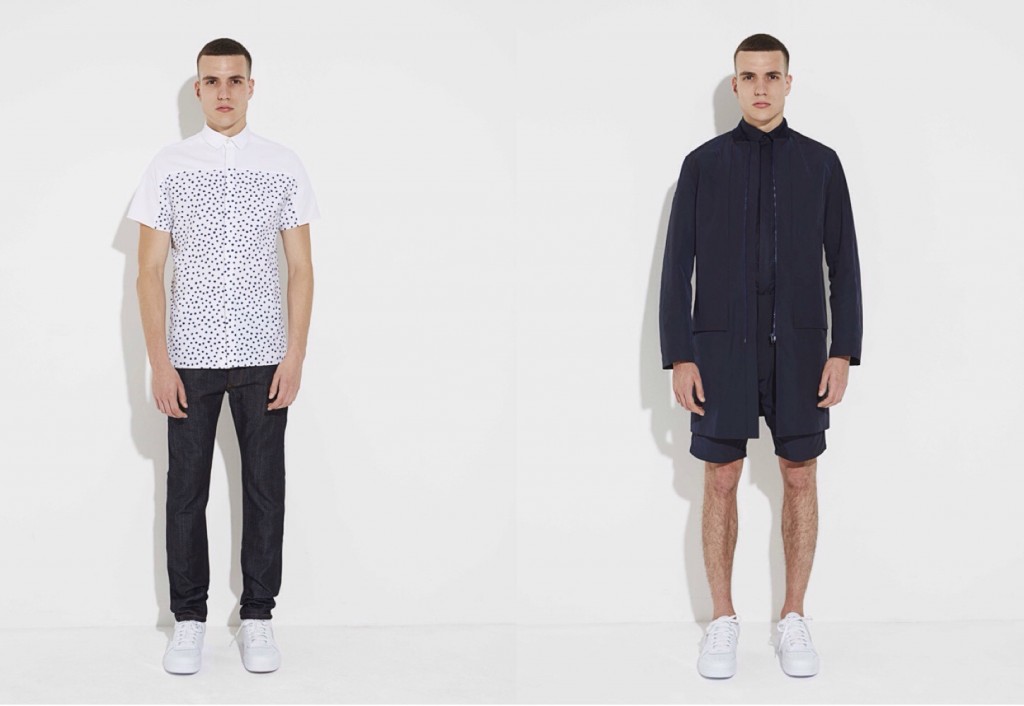 Natural Selection found life back in 2009, when John Park sought inspiration from Charles Darwin?s book ?Origin of Species by way of Natural Selection? the brand was conceived on the notion of constant evolution in a highly competitive world. Starting as a denim brand, and using only Japanese selvedge, Natural Selection marries modern silhouettes and finishing techniques to authenticity and high-fidelity construction.
For this season Natural Selection throughly embraces the chaos and energy of artist Tim Woolcock, a latter day proponent of the St Ives School of Painting, to create a collection of non?linear abstraction. Following the architecturally design  collection for last season, where irregularity was introduced through peppered tweeds, flecked chambrays and an errant polka dot motif. The shirting, shorts and sweaters feel sportier whilst silhouettes retain their clean, vertical lines.
The colour palette of the collection of blue, grey and stone are reminiscent of Woolcock?s work and compliment the crisp, uncluttered essence of the clothing. The brand continuously strives to challenge the norms of garment construction and craftsmanship with details such as buttons, pockets and seams concealed to produce flawless design with no compromise on functionality.
Proving its survival and even triving, later this month the brand open it?s first flagship store, on London?s Monmouth Street. Offering the discerning consumer the opportunity to shop both ready to wear and the extensive denim range, the Natural Selection store will also have curated collections from specially sourced designers; namely No.288 footwear from New York and Parisian eyewear brand Thierry Lasry. Cosmetics from Dr Jackson?s all-natural skincare range and fragrance from Histoires de Parfums will also complement the store?s all round offering.
Read the full article read here