Health and nutrition company bakes The Phenom a caged treat.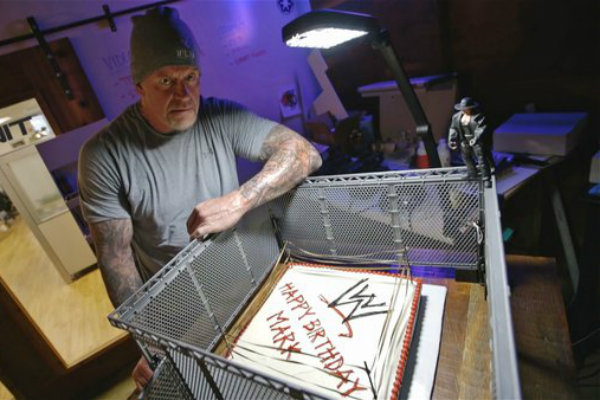 Onnit
Thursday, March 24, marks the 51st birthday of Mark ?Undertaker? Calaway, the greatest WWE Superstar of all time.
While Calaway is traditionally a very private man who keeps his personal life to himself for the sake of the preserving The Undertaker character?s mystique, The Phenom accepted a gracious gift from health solutions company Onnit ? a birthday cake in the shape of a wrestling ring, complete with a Hell in a Cell surrounding it and an Undertaker action figure watching from on high.
The Undertaker is as synonymous with Hell in a Cell as he is with WrestleMania and WWE. He?s competed in 13 of the company?s 32 Hell in a Cell matches (including the first one, a classic contest with Shawn Michaels that saw the debut of Kane), with his 14th coming in just 10 days at WrestleMania 32. At that show, The Undertaker will put his WrestleMania career on the line against Shane McMahon, who will be vying for full control of Monday Night Raw.
Onnit is an Austin-based provider of fitness equipment, supplements, and more. Touting the delivery of ?Total Human Optimization? to customers, the company has found many supporters in pro wrestling, MMA, and mainstream sports, including Diamond Dallas Page, Evan Bourne, Bode Miller, and Joe Rogan.